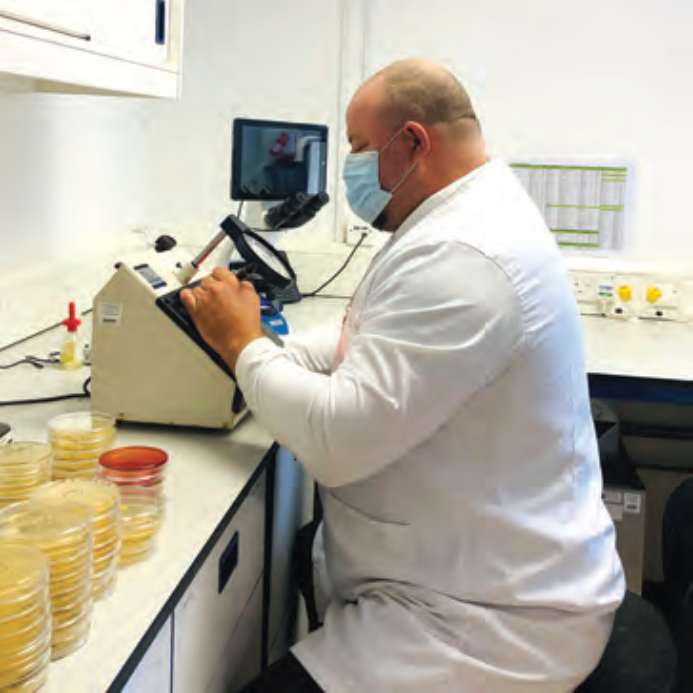 Daniel Ferrett
20 years at Rocialle Healthcare
Daniel Ferrett commenced his employment at Rocialle Healthcare in 2002 as a Medical Device Microbiologist.
Within the first year Daniel was chosen to attend a course in Denmark for the validation and process control for electron beam sterilisation where he learnt how to operate and validate electron beam  processes, systems and comply with the international regulatory standards. Over the years Daniel has undertaken a variety of other courses to enhance his knowledge and capability within his role.
For several years Daniel was responsible for the induction training of all new employees, which covered topics such as Health and Safety, hygiene, quality, cGMP. These days this is divided between 4 members of staff.
Day to day activities and key responsibilities include liaising with the regulatory team, Dosimetrist and Microbiologist. Daniel is also responsible for the environmental/hygiene compliance water  sample analysis, production line swabbing, swabbing of employee's hands to check for general hygiene and toilet bacteria, bio-burden testing, sterility testing, environmental monitoring, and electron beam validation.
In recent times Daniel has become a Radiation Protection Supervisor, this role is necessary for safeguarding people whilst using radiation on site and is a requirement from the Health & Safety Executive.
In the last 12 months Daniel has received recognition for his knowledge, loyalty and capabilities and has been promoted to Sterility Assurance Manager (SAM).
He now manages two other members of staff on site, which include a Dosimetrist and a Microbiology Technician. Daniel has also achieved a level 3 first aider at work certificate, which has been successfully utilised due to a recent accident at home.
Daniel's new role includes overseeing electron beam processes, approving and auditing electron beam release paperwork, supervising the Dosimetrist and training the Microbiologist. Daniel is also heavily involved in the notified body audits on site.  He was also given the added responsibility for the Hygiene Operatives in October 2021, which add another 12 people to his team.
"My time at Rocialle Healthcare has been an extraordinary journey in which I have learnt a great deal and made many friends and acquaintances over the years. Rocialle has invested and supported me over the years, and for this I will always be truly grateful."

Dan Ferret
Tags: dan ferret, spotlight