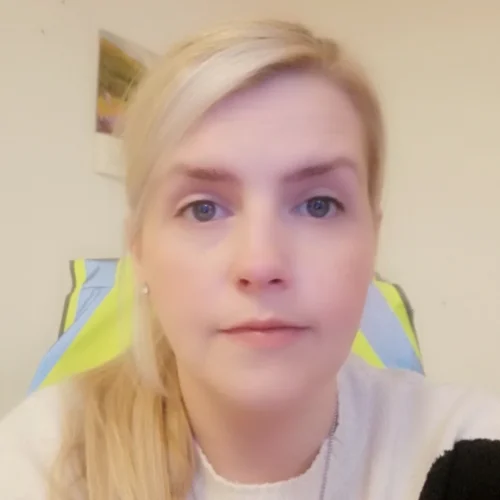 Sarah Mason
9 years at Rocialle Healthcare
Sarah Mason commenced her employment at Rocialle Healthcare in 2012 as a Cleanroom Operative.
Although Sarah spent the first 5 years of her career on the line within the cleanroom, Sarah would often volunteer to work within the packing area, piggyback room and on the Mezz to cover periods of absence and meet changing business needs. It was this versatility and her willingness to continually learn that helped her achieve her first promotion to Production Administration Assistant in 2017.
However, again, Sarah showed flexibility and often took on administration work outside of her remit to help other areas within the business, such as HR and the Warehouse. Sarah is often asked to help the management team with ad hoc project work and more recently this has included her valuable contribution to the Lean Programme where she has helped to identify efficiencies within RMT.
In April 2020 Sarah went on Maternity leave after welcoming her 2nd child, daughter Niamh, to the world. On returning to work this year after maternity, Sarah only spent 2 months back in Production before she was asked to assist temporarily within Planning. Of course Sarah was happy to take this on, saw it as a further learning opportunity and proved extremely valuable to Suzanne and the Planning Team with clearing a variety of administration tasks, together with creating subs. This helped Sarah to obtain her current role as Supply Chain Support Administrator and although early days, Sarah is thoroughly enjoying the new challenge and has settled into the Team seamlessly.
Sarah says that her varied experiences throughout the business over the last 9+ years have undoubtedly helped her to get to where she is today and have provided her with a strong all-round understanding of how the different business areas connect together. Sarah would like to thank Joanne Griffiths and her management team who have provided her with the opportunities and supported her throughout her enjoyable journey at Rocialle Healthcare.
I think we can all agree that Sarah demonstrates just how important it is to be flexible and accepting of change and with this 'can do' attitude we are sure that she will continue to excel within the business for many years to come!
Sarah lives locally in Cwmdare and in her spare time enjoys visits to The Dare Valley Country Park and Aberdare Park with her two beautiful children, Connor & Niamh. She also enjoys painting canvases and listening to the Foo Fighters.
"I am looking forward to furthering my career with a business that continues to support me. I'm proud of how far I've come during a very challenging year and want to continue to develop at  Rocialle Healthcare. I like the direction that the business is going in and feel that I can be a key part in its success story."

Sarah Mason
Tags: sarah mason, spotlight